TRIPLE THE IMPACT OF YOUR GIVING THIS CHRISTMAS?
Will you give the gift of God's Word? Audio Bible devices allow people to hear the gospel in their language. Many are hearing God's Word for the first time in their language and lives are being changed for eternity! Two very generous donors who want to help us reach people with God's Word have each promised to match every Audio Bible Device you give. Every Audio Bible device you provide will be double-matched. So, if you give one Audio Bible device, three devices will be sent, tripling the impact of your giving! 
your gift makes an impact!
"What started as another late night of YouTube video led me to this website. I purposely came for the Sinner's Prayer. You suggested it in one of the videos I watched.... In the early hours of Sunday morning, I accepted Jesus as my Lord and Savior."
-Timothy, Nigeria
"I appreciate you so much for all your continued Christian love, brotherly kindness, and memorable support over the past year. You were encouraging me with all the edifying literature, teachings, and writings based on God's infallible words. Please do kindly keep your helpful Christian publications, all your John Ankerberg Show teachings, writings, and books coming."
-Matt, Bahrain
"So grateful for all the sermons and programs. Word of God really is needed in our world. Some years ago I watched John's program on TV about the importance of having Jesus Christ in life. The invitation to give up the old life was so strong that I understood all the sins and turned to Lord. Thank you for the Bread of the Word."
-Marja, Finland
"Thank you also John Ankerberg for inspiring us and making us to be stronger than before in our faith in God by your international broadcast of The John Ankerberg Show. I hope that you will not stop inspiring us and encouraging other people to do so."
-Kevin, India
"It's such a blessing to be able to hear powerful programs in Israel now not only in my native language Russian. I pastor several churches in Israel where not everyone speaks Hebrew so I tell them to watch the programs. The messages have been such a blessing to all of our congregations and many of my friends that I have been witnessing to and praying for many years have come to the Lord after watching the programs. The Ankerberg show is bringing them to church and doing what we couldn't for many years by coming into their homes on their time and speaking directly to them in a language they understand and can receive. The Lord works wonders through the broadcast. Thank you for this great help to pastors in Israel. I know I'm not the only one thankful for Shalom TV and partners like the Ankerberg show. God bless you and Shalom."
-Moses, Jerusalem
"I am 18 years old, and I must say after I prayed to Jesus, I felt it was the
most I have ever been connected EVER... I have watched the John Ankerberg
Show when I was 9 or 10 years old, but when my grandpa died, it led me
down a bad path where I had little faith. "I believe Jesus led me back to this
show and I am so THANKFUL! Thank you all so much for keeping this show
alive and well. I will definitely watch more."
-anonymous, United States
The witch doctors in Salma's village demanded unquestioning respect, leaving no exposure to Scripture. When Salma met Neema and embraced the Gospel, she turned away from the witch doctors. With a Proclaimer, Salma and Neema witnessed the transformative impact of God's Word in families, leading Salma to start a listening group that deepened faith in her community.
- Kenya
Rangasamy, a 74-year-old believer, cooked meals to earn a living and attended church regularly. When he received an Audio Bible in his community's language, he not only fed hungry stomachs but also nourished hearts and minds with God's Word. Despite losing his leg, Rangasamy continues to play Scripture daily and shares the Truth with others, including village children who love listening to the Audio Bible on his Proclaimer.
- Sri Lanka
Camila, facing homelessness and chronic illness in Haiti, found comfort and peace in a local church's Creole Bible listening group. Hearing God speak her language empowered her and gave her assurance amidst her challenging circumstances. She described feeling as if a weapon was put in her hand, knowing that God cares for her.
- Haiti
Faith Comes By Hearing partnered to bring God's Word to prisoners in Ukraine. A Gospel Film screening introduced an eight-week Audio Bible program, allowing prisoners to gather weekly, listen to Scripture, and engage in discussion. Despite limited visitation due to ongoing conflict, the local partner continued to follow up, bringing light and prayer to the prisoners who expressed gratitude for the kindness shown to them.
- Ukraine
Luciana never had the New Testament in her heart language. Depression had consumed her life, and despite caring for her children, she felt lonely and hopeless. A village shaman even said that a dark spirit was following her. However, when Luciana heard the Audio Bible in her language, everything changed. She felt connected to God and finally had hope and purpose in her life.
- Costa Rica
Beatriz accepted Christ 12 years ago, but struggled to grow in her faith because of her inability to read Scripture. Recently, Beatriz joined a listening group and heard the Bible in Shipibo. Overcome with joy, the elderly woman cried as she heard God speak her language for the first time. Beatriz now spends her days growing in faith and sharing the love of God with other women in her community.
- Peru
During the pandemic, Chileans faced isolation from their faith communities as they quarantined at home. To address this, three partners of Faith Comes By Hearing in Chile organized digital Bible study broadcasts, inviting their relatives and friends to participate. Through these online gatherings, the lonely families not only learned more about God's Word but also felt a sense of belonging to a supportive community. The convenience of the internet allowed them to join from anywhere in Chile, ensuring spiritual nourishment for all.
- Chile
Where does your gift go?
The John Ankerberg Show has been presenting and defending the gospel for over 40 years. God has blessed us with 4.5 billion potential viewers in over 200 countries and the opportunity of expanding to major cities in the US and abroad in both English and Spanish.
We broadcast on independent TV stations in India 10 times a week in Hindi, Telegu, Tamil, and English. Our show is also broadcast in Hebrew and Russian across Israel. In addition, our Spanish broadcast reaches 90% of U.S. Hispanic TV homes with additional international coverage reaching over 50 million homes in Central and South America!
We have been able to use our international impact through television to partner with Faith Comes By Hearing in sending Audio Bibles to areas that need them most. It is our desire for every man, woman, and child to have the opportunity to hear God's Word. We cannot do it alone! Together with Faith Comes By Hearing, we are able to reach people with Bibles in their language that can be heard by hundreds of people at one time.
Micro SD Card
Micro SD cards are small memory devices that are loaded with the Word of God translated into the needed language, and provided to a pastor or a Christian worker overseas. When these micro SD cards are inserted into mobile phones, people can hear the Word of God in their own language. Because of their size, it is easy for micro SD cards to be passed from person to person. Several people are often impacted by hearing the Audio Bible that was loaded onto just one micro SD card. Many people are hearing the Bible in their heart language for the very first time.
BibleStick
BibleSticks are personal digital players that are battery-powered and come loaded with an Audio Bible. BibleSticks are approved for military use, distributed by US military chaplains, and are provided for the men and women in our armed forces in English and Spanish. Other BibleSticks are sent to refugee camps to be given to people who are desolate, hurting, and in need of the truth of God's Word in their language. Whether these BibleSticks are being used on the front lines of battle or in the midst of a crowded refugee camp, they offer hope and light in a place that would otherwise be dark, through the power of God's Word.
Audio Proclaimer
The Proclaimer is a solar-powered digital player, preloaded with an Audio Bible in the local heart language, and is designed for the sole purpose of proclaiming the Good News of Jesus Christ to the nations. Used in church services, villages, and listening groups around the world, the Proclaimer provides thousands of hours of Bible listening, discussion, and discipleship, allowing people to become saturated with God's Word and learn what it is to follow Jesus with the Holy Spirit's guidance.
Audio Bible Bundle
Providing three different Audio Bible devices, the Audio Bible bundle gives the gift of 3 SD cards, 3 BibleSticks, and an Audio Proclaimer. The SD Cards can be placed in phones (without internet access) so people can hear God's Word in their heart language. BibleSticks are used by soldiers in the field to listen to God's Word, and are also widely used in refugee camps, allowing people to hear the gospel in their own language, often passing them from person to person. Audio Proclaimers are designed to be heard by larger groups of people, allowing entire communities to gather and listen to God's Word.
Your Impact is so much Greater than You can Imagine
Watch as one man receives his very own Audio Proclaimer to be shared among his people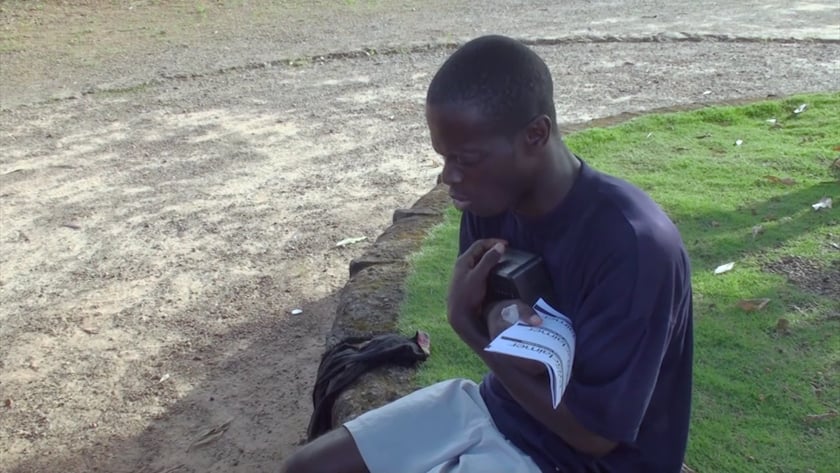 Give God's Word to the Ones who Need it Most this Christmas Season